From Game Editor

Geplayer: Test your game on iPhone!

---
Featured Games:


Silver the hedgehog - Chaos Of The Skies

---
Game Demos:
Yoshi Island ( REBIRTH ) -Yoshi and the magic eggs-

Candy Bear Bounce Android Game

Showing Health like in RESIDENT EVIL 3 ...using canvas !!

The World's Hardest Game (Remake)

¡Ahora puedes crear juegos para Mac OS X, iPhone e iPad! ¡Los usuarios de Mac podrán crear juegos para Windows y para Linux desde Mac!

Game Editor es un software de código abierto para el diseño de juegos. Te permite crear los juegos que siempre has soñado, y a diferencia de otras herramientas similares, te da la oportunidad de modificar el código fuente del creador y del diseñador del juego, así como también te permite desarrollar juegos 2D para computadores personales y para dispositivos móviles.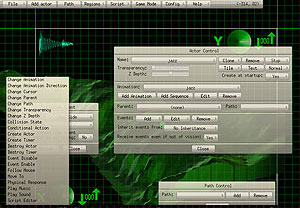 Con Game Editor podrás aprender mucho acerca de la creación de un juego, de programación, y muchas otras cosas más:
En el caso de que Game Editor no tenga la función que quieres, ¡la puedes crear tu mismo! No tienes que preocuparte por problemas de sistema o de compatibilidad, ¡sólo necesitas las ideas! ¡El desarrollo de juegos nunca ha sido tan sencillo!
Haz la descarga ahora para que veas por ti mismo lo ¡fácil que es utilizar nuestro software de diseño de juegos!
Game Editor está diseñado para desarrollar juegos con compatibilidad a través de todas las plataformas más populares, incluyendo Windows (95, 98, Me, NT, 2000, 2003, XP, Vista, 7), Linux, Mac OS X, iPhone, iPad, Pocket PC, Handheld PC, GP2X y Smartphones basados en Windows Mobile.
¡Transfórmate en un verdadero creador de juegos con Game Editor! ¡Descarga nuestro software de diseño de juegos y comienza a crear tus propios juegos hoy mismo!

This page has been translated into Spanish language by Maria Ramos from Webhostinghub.com/support/edu